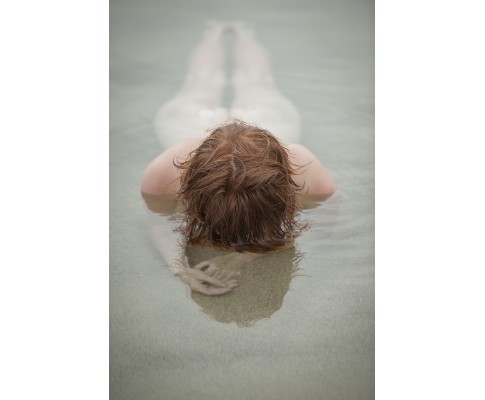 Depth
Description:
Photography - Water Series - Edition 3/10 + 1 Artist's Proof (not for sale)
Materials:
Archival Pigment Inkjet Print
Size:
Height 84cm x Length 61cm (inc. 14cm white border - 47cm x 70cm)
Weight:
Approx. 300gm
Shipping:
Rolled in a Tube via Australia Post in Australia - Handling with Cotton Gloves Only
Availability:
In Stock
Price: $1,400.00
Ex Tax: $1,400.00
Water Series by Caterina Pacialeo
The Image 'Depth' originally evolved from the Elements Series. The Elements Series deals with the cycles of nature and our oneness with nature. As I explored this concept, my spontaneity took over and delved into deeper complexities. Through this spontaneous introspection, images came up to the surface, evolved and tended to become little gems. This is how the Water Series came to the world.
The images are highly emotive a reflection of self, an internal exploration the feeling is cold, deep, still and wet. In Oriental traditions, the human body and nature are often seen as one. As in nature, the body is made of elements with cycles and rhythms.
Water has its cycles. Its season is winter, its organ is the kidneys and its flavours are salty and bitter. Its energy is inward and internal. As I delve deeper into this element, I am aware of its complexities on both a physical and physiological level informing my consciousness; mind and body are connected, one does not exist without the other. Everything is connected on a micro scale; connecting the dots, weaving its way through the body and creating an outward effect.
My research and interest in self discovery and inward journeys give me a greater understanding of my outer world. The way I can understand this is through understanding nature. As I study nature and observe what is around me, the constant change, then I too realise the impermanence of all beings.
Caterina Pacialeo 2015
Write a review
Your Name:
Your Review:
Note: HTML is not translated!
Rating:
Not for me
Love it!
Enter the code in the box below:
By sending this review, you agree to abide by Noella Lopez Gallery Privacy Policy and Terms and Conditions.