JOSHUA PARRY IN CONVERSATION WITH NOELLA LOPEZ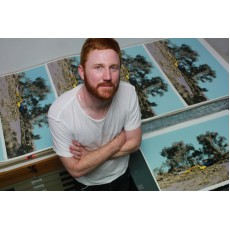 Joshua explores the outback with a touch of humour, nostalgia, a sense of loss, romanticism and a hint of harsh reality. His "postcards" of the outback are not leaving anything to the imagination. The landscapes are still, eternal, peaceful, beautiful, sometimes eerie and unpredictable. The colour palette reminds me of Mungo, Kinchega Lake and the areas surrounding Broken Hill. I can almost smell the soil, sense the isolation and peacefulness of these places and also the energy of that land. Sometimes it all gets interrupted by a giant extractor or other machinery abandoned or left idle as a symbol of a human presence, abandoned cars in an unforgiving landscape and unlikely place to live in.
Joshua's screen prints are just simply beautiful. I do love the "velvetiness" of his prints. I like that they are so Australian in their laid back feel and interpretation. Yet the colour palette is broad and subtle, his detail work gorgeous. Although the landscapes can exude a sense of desolation, the artist brings to each of the artworks richness, poetry, a unique recognition and a delicate understanding of the harmony of these places. He also shares his love for these places generously.
You conceive your work through personal and physical exploration. Can you tell us more about this process?
My family originates from Broken Hill and I've been travelling to the area since I was a child. It was not until I was in my early 20's that I started to become inspired to make work about the area. Up until recently I travelled there once a year and stayed with my Grandparents and drove around in my Grandfather's 4WD. My Grandfather died a few months ago, he played a major part in how I initially came to appreciate Broken Hill 10 or so years ago. He was a member of the Broken Hill Historical Society and was intensely proud of the town and its history.
I expect my next trip there will be similar, though I'll be staying on the property of a family friend rather than with my Grandparents. But it goes like this, I drive around in the desert and stop and take pictures at different locations. Personally, I don't know if it's about exploration – I'm very sentimental, while I'm there I romanticise about my family and their origins, about loss, about the isolation of the place and my own life. I do this while experiencing the landscape and as scene or vista appears I take photographs with the intention of distilling this feeling when they are brought to life in my studio.
This new body of work follows on from the unofficially titled 'Unforgotten Things' series. What are the main themes in this new series and how do you articulate these in these artworks?
The dominant theme of the previous series was nostalgia and the themes of this series are quite similar really! The works are still about loss and hope, time vs. mortality. Previously I used machines and human relics to articulate this feeling - a solitary abandoned car or crumbling building. I'm not using cars or broken building in this body of work. I reflected on the last body of work and found that the most successful images, the images that resonate the most to my emotions are the straight landscape images.
Retrospectively it's likely to be because they are simple and this simplicity gives the emotion a certain potency. So this body of work is an extension of that. I'm also going to introduce some images of people in this body of work, images to reflect and present the idea of time passing.
You are a printmaker, painter and a drawer. However you have specifically chosen the medium of screen printing to produce your artworks for the past few years. What does inspire you so about this medium?
I stumbled onto to printmaking when I was at university and found that it suited my way of working and the way I put images together. It is highly technical, which can be frustrating and satisfying at the same time and I've been at it for over 10 years now! What do I like about it? I would say that I like the end product, the technique involved, and how screen printing specifically makes what I want to achieve with photographic images possible. It's also a case of the medium that you know and are trained with. I know the technical possibilities well with screen printing and I am good at it! So it makes a lot of sense to keep creating screen printed images.
I hadn't done a lot of screen printing experience whilst I was training, but had a look at it after a friend showed me how he was putting screen printed images together using a digital process to prepare images for the actual physical screen printing. I've always been heavily into photography and I very quickly saw the potential for screen printing to lend itself to photography. There are several technical aspects to why this is so; however I think these are a bit abstract to go into without too much detail. I spent a long time (more than a couple of years) perfecting the technique that I use today. I'm trained in printmaking which is highly technical and process based; naturally I'm comfortable working with a rigorous technical process. The digital side of my process allows complete control of every aspect of image creation; composition and colour are the most important. This process is time consuming, but it is where the finished work is finalised. The actual printing process is just as time consuming but I'm working from the digital image; I actually have a laptop open in front of me so I can mix every colour correctly, there's no experimentation.
Visually what I love about screen printing is the process of simplification that is required in creation. The finished product has a certain stillness and timelessness that I find very engaging, and in terms of my work suits the agelessness and emotion that I try to convey. The simplication also means that certain elements, such as details and colours need to be carefully considered. In terms of colour, my colour palette is mostly sparse, with broad areas of colours comprising much of the surface of the image. Therefore small details carry significant weight visually. Working with a limited colour palette is simple and complex at the same time, and ultimately sophistication on the finished work.
Following on from this new body of work, what is your next step? Tell us more about your next explorations, your interests and inspirations and what you are currently working on.
It's difficult to see that far ahead. I mostly follow my nose, so no set plan. I'm still working on this current body of work and I'm still interested in landscapes. Most likely I'll see how that interest evolves once this body of work is complete. It won't be till I see it all together that I'll be able to visualise its balance and success and know why.
Joshua Parry
January 2015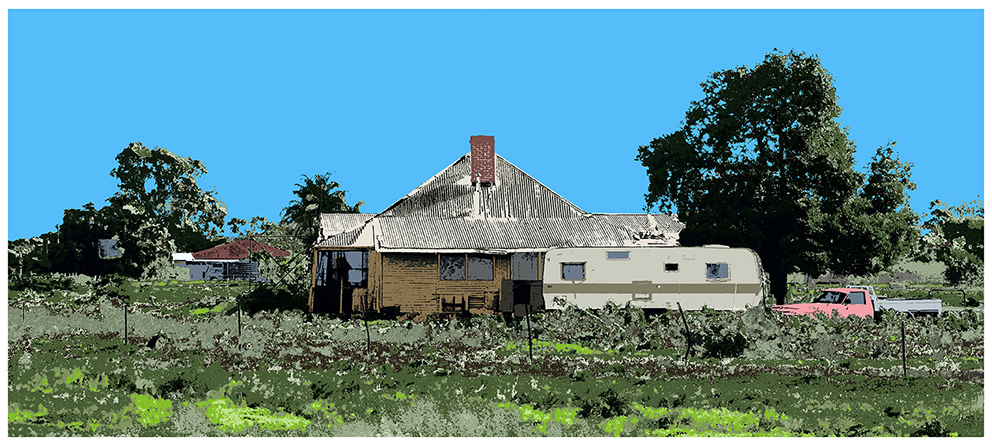 0 Comments To "JOSHUA PARRY IN CONVERSATION WITH NOELLA LOPEZ"
Write a comment
Your Name:
Your Comment:
Note:

HTML is not translated!
Enter the code in the box below:
By posting this comment, you agree to abide by Noella Lopez Gallery Privacy Policy and Terms and Conditions.