Lisa Jones in Conversation with Noella Lopez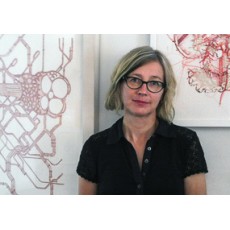 The first artwork I saw by Lisa Jones was one of her mesmerising chairs a few years ago. It was an elegant, sexy, feminine, intelligent artwork. A common object transcended to a work of art! Jones' interpretation within her own narrative and practice is complex. Whether she articulates these insights on paper or as three-dimensional artworks, one cannot miss her personal interpretation and be drawn to her curious worlds. She gives us clues to orient ourselves through these intriguing mazes, full of meanders, dead ends, unknown paths, reflections, outbursts, introspections and discoveries. Sometimes we can enter, sometimes she leaves us guessing. Her works are rich, deep, intimate, and layered. Her conceptual approach is strong and her imagination boundless. Her artistic choices are bold, yet delicate and sensitive.
The artworks created for the 'Invisible Cities' series are exquisite and delicate. The layering of imagery and delicate paper cut outs entice you to look at these "cabinet of curiosities", mysterious and beautiful, inventive and hidden journeys. Let's see what secrets can be uncovered.
Your work is marked by your exploratory use of materials and investigations of natural and manmade systems. How did this process inspire and impact the 'Invisible Cities' body of work?
I use images of body parts, maps and other systematic representations as formal compositional elements. Actual maps of city transport systems are drawn and interwoven with the imagined and realistic images of body organs, creating an imaginary system of networks and relationships. The result is a tangle of arteries and veins that reveal hybrid systems of movement and the body in the world.
Over the past few years laser cutting has become a key process in my work. This tool has enabled me to engage with drawing in a more sculptural manner and the opportunity to think about drawings as spatial objects - and sculptures as drawings.
The idea of drawing with a machine has enabled me to expand the notion of drawing as mark making and thus combining the act of drawing with the act of cutting. The fine degree of cut detail only possible with the laser makes the integration of representations more intense and effective.
Another development in my work due to the laser is the use of the computer to generate drawings. The use of original drawings and retraced historical drawings are scanned and then reworked on the computer as the basis for these new multiple layered laser cut works.
Laser cutting has moved me from producing single pieces to large, multi-component installations that allow the works to be "layered", enabling research around the notion of repetition and pattern making and its effect on the reading of the original drawn image. Some of the drawn images are laser cut in paper - the paper representing the body's flesh which is then surgically layered, cut, stitched and finally coloured to reflect the scarring of these effects on tissue and skin. Some of the images receive scorch marks and other traumatic effects that reflect various body experiences.
With 'Invisible Cities' I sense that you have reached a certain maturity in your art in terms of the beauty achieved, the depth of the narrative, their congruence and how these aspects are articulated. Can you describe how this unfolded for you and in what way, if any this series may be different from previous ones?
The 'Invisible Cities' series was made over two years of direct research but it also drew on my wider interests in artifact museums, medical museums and exhibitions that explore the body in art. I spent time away from the studio researching old medical imagery, in particular at the Australian Centre for Microscopy & Microanalysis at University of Sydney and the library at the Royal Australian College of Physicians, Sydney.
Invisible Cities brought together my sculptural and drawing practices. My drawings had previously been separate and primarily about sketches for sculptural objects. I sense my work may never reach maturity as it is an evolving process that grows with me.
Your art merges the aesthetics of Invisible Cities with fragmented and fragile bodies, secret networks and artistic algorithms and your aim is to enliven these incongruities with traces of lived experience and layered spaces. How do you think audiences react to your work?
I hope my audience responds through an aesthetic formal engagement with the colours, patterns and shape and then further through a deeper investigation of the concepts relating to the body systems and maps.
Following 'Invisible Cities' what is your next step? Tell us more about your next body of work, your interests and inspirations, and what you are currently working on.
I am currently working towards two exhibitions: a drawing exhibition and another about colour. For the drawing exhibition I am reworking and revisiting the 'Invisible Cities' series, reevaluating and expand on the success of this work. For the colour exhibition, I am working with a sculptural drawing in coloured acrylic. I am inspired to extend the human element of the mechanical technological process of laser cutting.
Lisa Jones 2014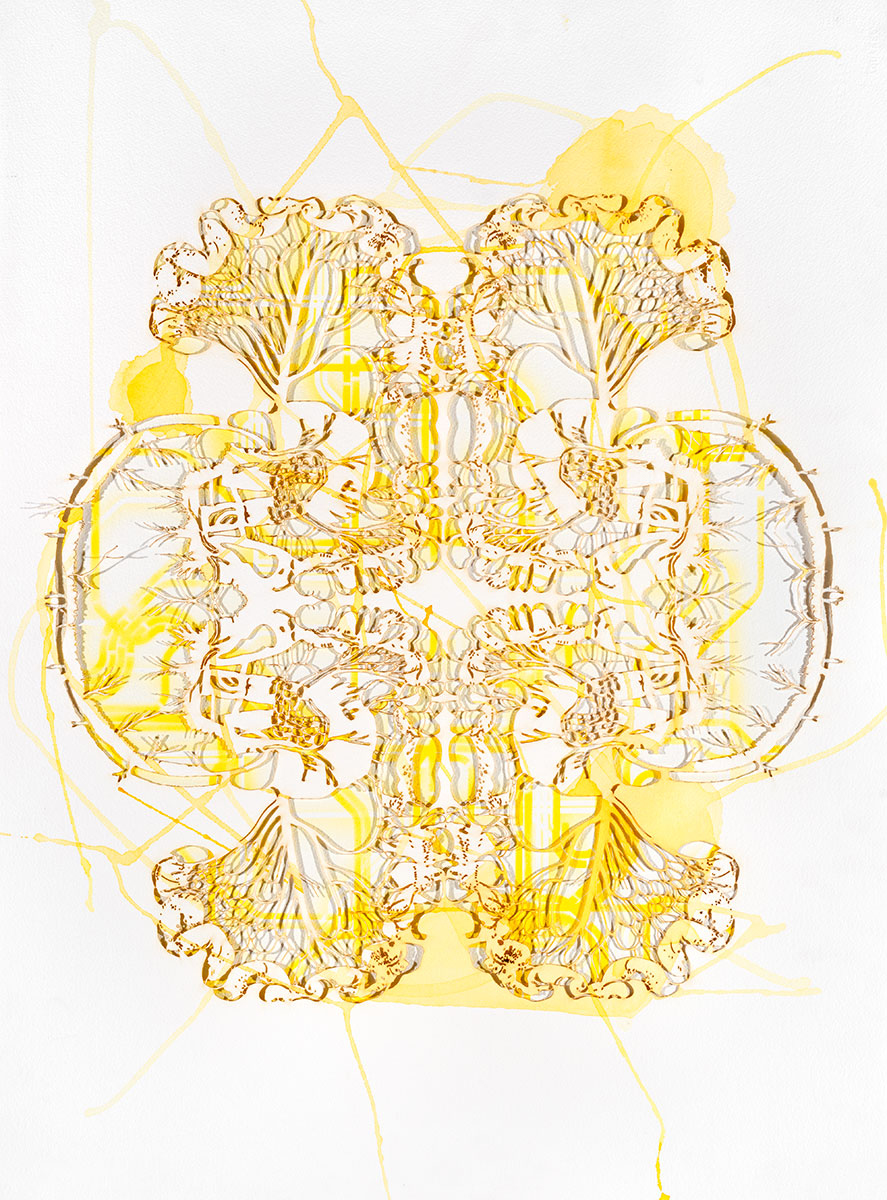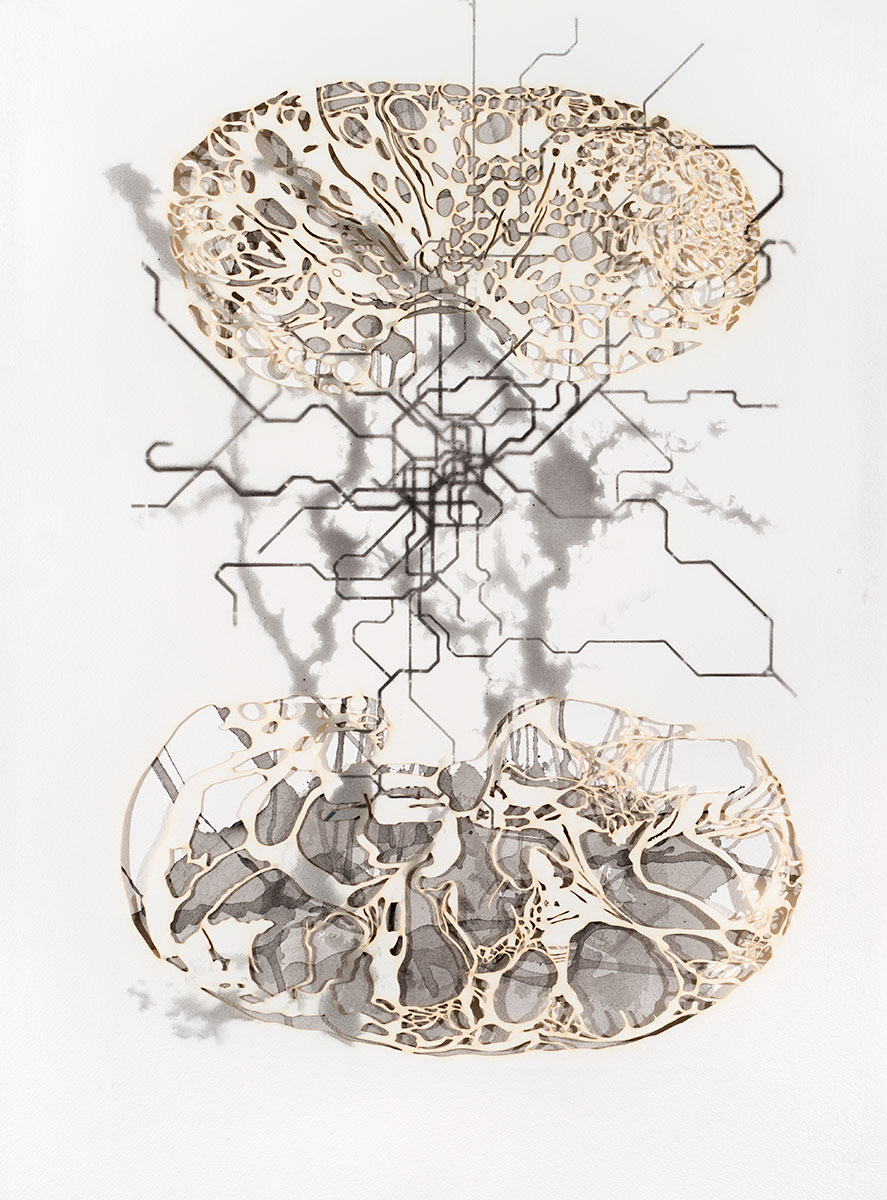 0 Comments To "Lisa Jones in Conversation with Noella Lopez "
Write a comment
Your Name:
Your Comment:
Note:

HTML is not translated!
Enter the code in the box below:
By posting this comment, you agree to abide by Noella Lopez Gallery Privacy Policy and Terms and Conditions.