More About Lisa Jones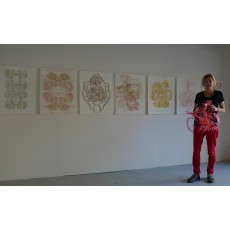 WHO ARE YOUR ART ICONS? Vermeer is probably top of my list, then Cornelia Parker and Richard Serra.
WHO ARE YOUR DESIGN ICONS? Frank Gehry.
IF YOU HAD A TATTOO, WHAT WOULD IT BE? WHERE WOULD IT BE? I loathe tattoos.
WHAT IS YOUR FAVOURITE COLOUR (S)? WHY? I like warm tones and always find myself incorporating them into my works.
WHAT ART INSPIRES YOU AT THE MOMENT? I have recently returned from Berlin and loved every art form there.
WHAT MUSIC ARE YOU PLAYING ON YOUR IPOD? I usually listen to BBC Radio 4 (not a music station) but for music I listen to Arcade Fire, Beach House and I love Rudimentals.
WHAT IS YOUR FAVOURITE ART PIECE FROM YOUR OWN BODY OF WORK. TELL US MORE. I don't have a favourite. If you have a favourite then you would have reached the end of art-making.
TELL US ABOUT A REVELATION BREAKTHROUGH IN YOUR PRACTICE. When I found out I was dyslexic everything suddenly made sense.
WHEN AND HOW DID YOU FIND OUT YOU WERE AN ARTIST? I kind of fell into it. I was useless at most things at school but art was always my favourite subject. An art teacher recommended I went to art school after seeing the work I made at school.
WHAT MAKES YOU SMILE? English comics and American humourist David Sedaris.
WHAT QUESTION WOULD YOU LIKE TO BE ASKED? Would you like an exhibition?
WHO ARE YOUR FAVOURITE ARTISTS? I admire artists who are passionate about making art and who spend time devoted to the act of making.
WHAT MAKES YOU FREE? Travelling.
5 THINGS TO KNOW ABOUT YOU. I'm an artist, mother, wife, teacher and all round lover of life.
WHAT GOES WITH THE COLOUR APRICOT? Peaches and cream.
WHAT DO YOU ENJOY COOKING? I would rather be doing something else.
YOUR FAVOURITE ACTRESS (ESSES) AND ACTOR (S)? IN ANY SPECIFIC MOVIES? David Tennant.
WHAT ARE YOUR FAVOURITE MOVIES? In Bruges.
WHAT ARE YOUR FAVOURITE DISHES AND FOOD? Anything fresh and healthy.
WHAT IS YOUR PREFERRED ART MOVEMENT? I find all art inspiring.
WHAT IS YOUR PREFERED DESIGN PERIOD? 1960's.
WHAT WOULD YOU LIKE COLLECTORS TO GET FROM YOUR ARTWORKS? An object that you can look at over and over again and see something different each time.
WHERE DO YOU GET INSPIRATION FOR YOUR ART? Life.
WHICH COFFEE? None. It gives me a headache.
WHAT ARE YOU LOOKING FORWARD TO? Time in my studio.
WHICH PLACES INSPIRE YOU? Cities.
DO YOU COLLECT ANYTHING? TELL US MORE. Small artworks. They are affordable and I have space for many.
WHAT ARE YOU READING NOW? Contemporary drawing practices.
WHAT ARE YOUR FAVOURITE FLOWERS? Anything fragrant.
AN IDEAL DAY WHERE YOU LIVE. Spending it in my studio.
WHAT DO YOU ENJOY ON TV? British crime dramas.
WHAT INTRIGUES YOU RIGHT NOW? How my daughter will ever get through the HSC.
WHAT ARE YOUR BEST DOWNTIME PURSUITS? To be in my studio with BBC Radio 4 playing in the background.
0 Comments To "More About Lisa Jones"
Write a comment
Your Name:
Your Comment:
Note:

HTML is not translated!
Enter the code in the box below:
By posting this comment, you agree to abide by Noella Lopez Gallery Privacy Policy and Terms and Conditions.