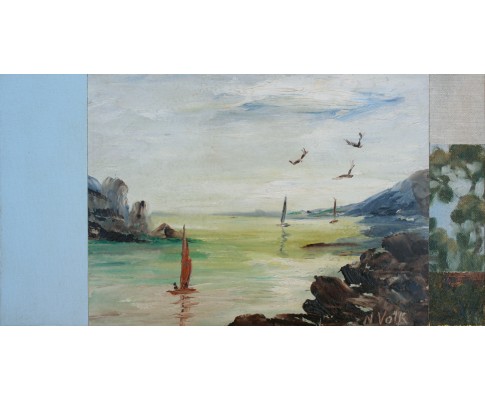 Composite 8
Artist:
Matthew de Moiser
Description:
Assembled Painting - Composite Series
Materials:
Found Oil and Acrylic Paintings on Plywood Board
Size:
Height 18cm x Length 35cm x 2cm
Weight:
Approx. 1.kg
Shipping:
Flat Packed via Australia Post in Australia – Handle with Gloves
Availability:
In Stock
Price: $950.00
Ex Tax: $863.64
Composite Series
The Composite series are assemblages made from other artists' paintings. They challenge the sanctity that art enjoys, but paradoxically is also constrained by. I had the idea for the work after Adam Cullen shot a hole through my first laminate painting which he purchased at Art Sydney a few years back. At first I was offended, but then I started thinking about it as an act of transformation, rebirth even. Inspired by open source software engineering, sampling and the scientific method, the Composite series builds on the work of other artists to generate new ways of seeing.
Matt de Moiser 2015
Write a review
Your Name:
Your Review:
Note: HTML is not translated!
Rating:
Not for me
Love it!
Enter the code in the box below:

By sending this review, you agree to abide by Noella Lopez Gallery Privacy Policy and Terms and Conditions.