Glossary
A comprehensive definitions' list to help you get more background on some of the technical works used in visual art practice.
ARCHES PAPERS
Canson was founded in 1557 by the Montgolfier family. Its development and destiny are intertwined with the history of France and the history of Art. Rooted in tradition, Canson respects this heritage and its duty to always provide consumers with outstanding paper. The Montgolfier brothers invented the first hot-air balloon in 1782. But first and foremost, they were paper manufacturers. Over the centuries, the company created numerous manufacturing processes such as the Hollander beater to tear up rag, pulp dying to obtain uniform coloured paper, etc. They also innovated with vellum paper, then tracing paper in 1809. In 1865, Canson obtained a patent for a photo paper which simplified printing operations.
Since 1492, Arches has stood for professional quality for artists. It's pure cotton products, mould-made in the traditional way, have a natural grain which resembles that of hand-made paper. This process also produces a more stable paper, whose form is not significantly altered when wet, because of the excellent distribution of its long cotton fibres. Arches Watercolour papers also boast unique sizing using natural gelatine, giving the paper incomparable resistance to scratching and exceptional rendering of colours. (Source en.canson.com/arches-brand)
ARCHES 88
A surface specific for print making, a 100% cotton mould made paper, acid free and buffered. It has an extremely smooth surface with four deckle edges and a registered watermark. As the paper is not size it is very absorbent and therefore recommended for silkscreen printing and if slightly moistened, for intaglio etching.
ARCHES WATERCOLOUR PAPER
Arches watercolour paper is made of 100% cotton fibre giving it its great strength and stability. Arches is a mould made paper giving its characteristic texture and deckle edge. The paper is gelatine sized and air dried.
ACID FREE
Acid-free paper is paper that if infused in water yields a neutral or basic pH (7 or slightly greater). It can be made from any cellulose fibber as long as the active acid pulp is eliminated during processing. It is also lignin and sulphur free. Acid-free paper addresses the problem of preserving documents and artwork for long periods. (Source Wikipedia)
ACRYLIC
Acrylic resins are a group of related thermoplastic or thermosetting plastic substances derived from acrylic acid, methacrylic acid or other related compounds. Polymethyl acrylate is an acrylic resin used in an emulsified form for lacquer, textile finishes, and adhesives and mixed with clay, to gloss paper. Another acrylic resin is polymethyl methacrylate which is used to make hard plastics with various light transmitting properties. (Source Wikipedia)
ACRYLIC PAINT
Acrylic paint is fast-drying paint containing pigment suspension in acrylic polymer emulsion. Acrylic paints can be diluted with water, but become water-resistant when dry. Depending on how much the paint is diluted (with water) or modified with acrylic gels, media, or pastes, the finished acrylic painting can resemble a watercolour or an oil painting, or have its own unique characteristics not attainable with other media. (Source Wikipedia)
A/P – Artist's Proof
An artist's proof is, at least in theory, an impression of a print taken in the printmaking process to see the current printing state of a plate while the plate (or stone, or woodblock...) is being worked on by the artist. A proof may show a clearly incomplete image, often called a working proof or trial impression, but in modern practice is usually used to describe an impression of the finished work that is identical to the numbered copies.There can also be printer's proofs which are taken for the printer to see how the image is printing, or are final impressions the printer is allowed to keep; but normally the term "artist's proof" would cover both cases. Artist's proofs are not included in the count of a limited edition, and sometimes the number of artist's proofs, which belong to the artist, can be surprisingly high at twenty or more. By convention, the artist is not supposed to sell these at once. (Source Wikipedia)
CHARCOAL
Natural drawing charcoal is formed by the low-temperature carbonisation of soft, resin-free branches of wood in a vacuum.
CHINE-COLLE
Chine-collé is a special technique in printmaking. The purpose is to allow the printmaker to print on a much more delicate surface, such as Japanese paper, which pulls finer details off the plate. Another purpose is to provide colour behind the image that is different from the surrounding backing paper.
COLLAGE
Collage (From the French: coller, to glue) is a technique of an art production, primarily used in the visual arts, where the artwork is made from an assemblage of different forms, thus creating a new whole. A collage may sometimes include newspaper clippings, ribbons, bits of coloured or handmade papers, portions of other artwork or texts, photographs and other found objects, glued to a piece of paper or canvas. The origins of collage can be traced back hundreds of years, but this technique made a dramatic reappearance in the early 20th century as an art form of novelty. This term was coined by both Georges Braque and Pablo Picasso in the beginning of the 20th century when collage became a distinctive part of modern art. (Source Wikipedia)
COPPERPLATE PROCESS
Copper plating is the process in which a layer of copper is deposited on the item to be plated by using an electric current. Three basic types of processes are commercially available based upon the complex system utilised: alkaline (several modifications of cyanide and non-cyanide) complex bath, acid (sulphate and fluoborate) complex bath and mildly alkaline (pyro phosphate) complex bath.
With a higher current, hydrogen bubbles will form on the item to be plated, leaving surface imperfections. Often various other chemicals are added to improve plating uniformity and brightness. Without some form of additive, it is almost impossible to obtain a smooth plated surface. These additives can be anything from dish soap to proprietary compounds. (Source Wikipedia)
DIPTYCH
A work consisting of two painted or carved panels that are hinged together.
DOWEL
A dowel is a solid cylindrical rod, usually made of wood, plastic, or metal. In its original manufactured form, a dowel is called a dowel rod. Dowel rods are often cut into short lengths called dowel pins. (Source Wikipedia)
ETCHING
Etching is the process of using strong acid or mordant to cut into the unprotected parts of a metal surface to create a design in intaglio in the metal (the original process—in modern manufacturing other chemicals may be used on other types of material). As an intaglio method of printmaking, it is, along with engraving, the most important technique for old master prints, and remains in wide use today. (Source Wikipedia)
GOUACHE
Gouache, is a water based type of paint consisting of pigment, a binding agent (usually gum Arabic), and sometimes added inert material, designed to be used in an opaque and matt finish method. It also refers to paintings that use this opaque method. The name derives from the Italian guazzo. Gouache paint is similar to watercolour but modified to make it opaque. A binding agent, usually gum Arabic, is present, just as in watercolour. Gouache differs from watercolour in that the particles are larger, the ratio of pigment to water is much higher, and an additional, inert, white pigment such as chalk is also present. This makes gouache heavier and more opaque, with greater reflective qualities. (Source Wikipedia)
INKJET PRINT
Inkjet printing is a type of computer printing that creates a digital image by propelling droplets of ink onto paper, plastic, or other substrates.
INTAGLIO ETCHING
Intaglio is the family of printing and printmaking techniques in which the image is incised into a surface, and the incised line or sunken area holds the ink. It is the direct opposite of a relief print. Normally, copper or zinc plates are used as a surface or matrix, and the incisions are created by etching, engraving, dry point, aquatint or mezzotint. Collagraphs may also be printed as intaglio plates. (Source Wikipedia)
HAHNEMUHLE PAPERS
The company was founded in 1584 and as such is the oldest German papermaker manufacturing papers for the traditional and digital artist as well as industrial paper. The traditional artist-paper range comprises: mould-made watercolour papers and academy-watercolour papers, copper-print and lithograph cardboards, mould-made papers for graphic-art printing, mould-made Ingres and Bugra papers, oil/acryl and pastel papers, sketch blocks and sketch books, papers from renewable bamboo fibres, passepartout and museum cardboards. (Source www.hahnemuehle.com)
MATTBOARD
In the picture framing industry, a matt (or mount in British English) is a thin, flat piece of paper-based material included within a picture frame, which serves as additional decoration and to perform several other, more practical functions, such as separating the art from the glass and protecting the artwork. (Source Wikipedia)
MIXED MEDIA
Mixed media, in visual art, refers to an artwork in the making of which more than one medium has been employed. There is an important distinction between "mixed-media" artworks and "multimedia art". Mixed media tends to refer to a work of visual art that combines various traditionally distinct visual art media. For example, a work on canvas that combines paint, ink, and collage could properly be called a "mixed media" work, but not a work of "multimedia art." The term multimedia art implies a broader scope than mixed media, combining visual art with non-visual elements (such as recorded sound, for example) or with elements of the other arts (such as literature, drama, dance, motion graphics, music, or interactivity). When creating a painted or photographed work using mixed media it is important to choose the layers carefully and allow enough drying time between the layers to ensure the final work will have structural integrity. If many different media are used it is equally important to choose a sturdy foundation upon which the different layers are imposed. (Source Wikipedia)
MULTIPLE COPPER PLATE See Printmaking
MULTIPLATE ETCHING See Printmaking
MULTIPLATE PLATE BLEED See Printmaking
OCEAN ETCHING
Luke Shelley created this printmaking technique. The copper plates are submerged within the ocean, in particular areas of high water movement. The plate is left for several weeks and endures the erosive nature of the ocean. Once Luke retrieves the plate, organic marks (random scratches, gouges, and oxidisation) are captured on the plate's printable surface. These marks, according to Luke, record and emulate the movement of particles caught in the surges and turbulent waters.
OIL PAINT AND PAINTING
Oil paint is made of pigments ground in oil, usually linseed oil and is used in oil painting. Oil painting is the process of painting with pigments that are bound with a medium of drying oil. Commonly used drying oils include linseed oil, poppy seed oil, walnut oil, and safflower oil. The oil may be boiled with a resin, such as pine resin or frankincense to create a varnish; often prized for its body and gloss. Different oils confer various properties to the oil paint, such as less yellowing or different drying times. Certain differences are also visible in the sheen of the paints depending on the oil. An artist might use several different oils in the same painting depending on specific pigments and effects desired. The paints themselves also develop a particular consistency depending on the medium.
Although oil paint was first used for the Buddhist Paintings by Indian and Chinese painters in western Afghanistan sometime between the fifth and tenth centuries, it did not gain popularity until the 15th century. Its practice may have migrated westward during the Middle Ages. Oil paint eventually became the principal medium used for creating artworks as its advantages became widely known. The transition began with Early Netherlands' painting in northern Europe, and by the height of the Renaissance oil painting techniques had almost completely replaced tempera paints in the majority of Europe. (Source Wikipedia)
PAPER GSM
It is the paper density (also known as basis weight and grammage) is a term used in the pulp and paper industry to denote a measure of mass of the product per unit of area for a type of paper or paperboard. The term "density" is not used in its traditional sense of mass per unit volume. "Paper density", rather, is a measure of the area density. The higher the GSM is, the heavier the paper is.
PERSPEX (trademark)
A solid transparent plastic made of polymethyl methacrylate (the same material as Plexiglas or Lucite) often used as a substitute for glass.
PHOTOGRAPHIC PAPERS
Photographic paper is a paper coated with a light-sensitive chemical formula, used for making photographic prints. When photographic paper is exposed to light it captures a latent image that is then developed to form a visible image. The light-sensitive layer of the paper is called the emulsion.
The print image is traditionally produced by interposing a photographic negative between the light source and the paper, either by direct contact with a large negative (forming a contact print) or by projecting the shadow of the negative onto the paper (producing an enlargement). The initial light exposure is carefully controlled to produce a gray scale image on the paper with appropriate contrast and gradation. Photographic paper may also be exposed to light using digital printers such as the Light Jet, with a camera (to produce a photographic negative), by scanning a modulated light source over the paper, or by placing objects upon it (to produce a photogram).
FIBER-BASED PAPERS (FB)
Fibre-based (FB or Baryta) photographic papers consist of a paper base coated with baryta. Tints are sometimes added to the baryta to add subtle colour to the final print; however most modern papers use optical brighteners to extend the paper's tonal range. Most fibre-based papers include a clear hardened gelatine layer above the emulsion which protects it from physical damage, especially during processing. This is called a super coating. Papers without a super coating are suitable for use with the bromoil process. Fibre-based papers are generally chosen as a medium for high-quality prints for exhibition, display and archiving purposes. These papers require careful processing and handling, especially when wet. However, they are easier to tone, hand-colour and retouch than resin-coated equivalents.
ILFOCHROME
Ilfochrome (also commonly known as Cibachrome) is a dye destruction positive-to-positive photographic process used for the reproduction of film transparencies on photographic paper. The prints are made on a dimensionally stable polyester base as opposed to traditional paper base. Since it uses 13 layers of azo dyes sealed in a polyester base, the print will not fade, discolour, or deteriorate for an extended time. Accelerated aging tests conducted by Henry Wilhelm indicated the product resisted fading under display conditions longer than any other known photographic colour material. Characteristics of Ilfochrome prints are image clarity, colour purity, as well as being an archival process able to produce critical accuracy to the original transparency. (Source Wikipedia)
PIGMENTS
Pigments are the essential ingredients for artist's paints and can also be used to colour all manner of materials. Mixed with linseed oil, they make oil paint; mixed with gum Arabic they make watercolour paints. They can be added to glue, plaster, melted wax, paper, varnishes, used for egg tempera, etc.
PRINTMAKING
Printmaking is the process of making artworks by printing, normally on paper. Printmaking normally covers only the process of creating prints that have an element of originality, rather than just being a photographic reproduction of a painting. Except in the case of monotyping, the process is capable of producing multiples of a same piece, which is called a print. Each print produced is not considered a "copy" but rather is considered an "original". This is because typically each print varies to an extent due to variables intrinsic to the printmaking process, and also because the imagery of a print is typically not simply a reproduction of another work but rather is often a unique image designed from the start to be expressed in a particular printmaking technique. A print may be known as an impression. Printmaking (other than monotyping) is not chosen only for its ability to produce multiple impressions, but rather for the unique qualities that each of the printmaking processes lends itself to.
Prints are created by transferring ink from a matrix or through a prepared screen to a sheet of paper or other material. Common types of matrices include: metal plates, usually copper or zinc, or polymer plates for engraving or etching; stone, aluminium, or polymer for lithography; blocks of wood for woodcuts and wood engravings; and linoleum for linocuts. Screens made of silk or synthetic fabrics are used for the screen-printing process. Other types of matrix substrates and related processes are discussed below.
Multiple impressions printed from the same matrix form an edition. Since the late 19th century, artists have generally signed individual impressions from an edition and often number the impressions to form a limited edition; the matrix is then destroyed so that no more prints can be produced. Prints may also be printed in book form, such as illustrated books or artist's books.
Printmaking techniques are generally divided into the following basic categories:
Relief: where ink is applied to the original surface of the matrix. Relief techniques include woodcut or woodblock as the Asian forms are usually known, wood engraving, linocut and metal cut.
Intaglio: where ink is applied beneath the original surface of the matrix. Intaglio techniques include engraving, etching, mezzotint, aquatint.
Planographic: where the matrix retains its original surface, but is specially prepared and/or inked to allow for the transfer of the image. Planographic techniques include lithography, monotyping, and digital techniques.
Stencil: where ink or paint is pressed through a prepared screen, including screen-printing and pochoir.
Other types of printmaking techniques outside these groups include: collagraphy, viscosity printing, and foil imaging. Collagraphy is a printmaking technique in which textured material is adhered to the printing matrix. This texture is transferred to the paper during the printing process. Contemporary printmaking may include digital printing, photographic mediums, or a combination of digital, photographic, and traditional processes.
Many of these techniques can also be combined, especially within the same family. For example Rembrandt's prints are usually referred to as "etchings" for convenience, but very often include work in engraving and dry point as well, and sometimes have no etching at all. (Source Wikipedia)
SCREENPRINT
Screen printing is a stencil method of print making in which a design is imposed on a screen of polyester or other fine mesh, with blank areas coated with an impermeable substance. Ink is forced into the mesh openings by the fill blade or squeegee and onto the printing surface during the squeegee stroke. It is also known as silkscreen, serigraphy, and serigraph printing. One colour is printed at a time, so several screens can be used to produce a multicoloured image or design. (Source Wikipedia)
SCULPTURE
The art or practice of shaping figures or designs in the round or in relief, as by chiselling marble, modelling clay, or casting in metal. Sculpture is the branch of the visual arts that operates in three dimensions and one of the plastic arts. Durable sculptural processes originally used carving (the removal of material) and modelling (the addition of material, as clay), in stone, metal, ceramics, wood and other materials but, since modernism, shifts in sculptural process led to an almost complete freedom of materials and process. A wide variety of materials may be worked by removal such as carving, assembled by welding or modelling, or moulded, or cast. (Source Wikipedia)
SILICONE
Any of a class of synthetic materials which are polymers with a chemical structure based on chains of alternate silicon and oxygen atoms, with organic groups attached to the silicon atoms. Such compounds are typically resistant to chemical attack and insensitive to temperature changes and are used to make rubber and plastics and in polishes and lubricants.
STRETCHED CANVAS
A term in painting referring to canvas stretched and secured to a wooden frame (also known as a stretcher bar) to be used for original paintings and print reproductions. Canvases vary in quality and surface quality from cotton to Belgian linen and wood stretchers vary from pine to cedar for instance.
TRIPTYCH
A triptych is a work of art (usually a panel painting) that is divided into three sections, or three carved panels which are hinged together and can be folded shut or displayed open. It is therefore a type of polyptych, the term for all multi-panel works. The middle panel is typically the largest and it is flanked by two smaller related works, although there are triptychs of equal-sized panels. (Source Wikipedia)
WATERCOLOUR PAINT AND PAINTING
Watercolour also Aquarelle from French, is a painting method. A watercolour is the medium or the resulting artwork in which the watercolour paints are made of pigments suspended in a water-soluble vehicle and Gum Arabic The traditional and most common support for watercolour paintings is paper; other supports include papyrus, bark papers, plastics, vellum or leather, fabric, wood, and canvas. Watercolours are usually transparent, and appear luminous because the pigments are laid down in a relatively pure form with few fillers obscuring the pigment colours. Watercolour can also be made opaque by adding Chinese white. In East Asia, watercolour painting with inks is referred to as brush painting or scroll painting. In Chinese, Korean, and Japanese painting it has been the dominant medium, often in monochrome black or browns. India, Ethiopia and other countries also have long traditions. Finger painting with watercolour paints originated in China. (Source Wikipedia)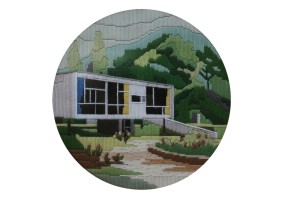 $1,950.00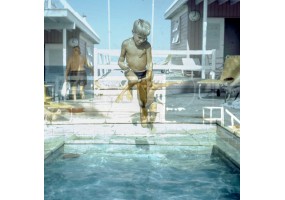 $7,500.00