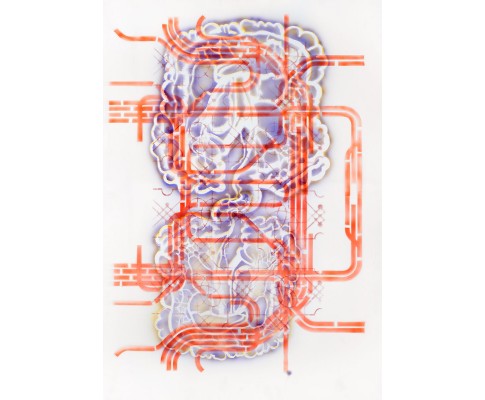 Saturate Invisible Cities 4
Description:
Drawing on Paper - Saturate - Invisible Cities Series
Materials:
Ink on Rosapina Paper 300gsm
Size:
Height 100cm x Length 70cm
Weight:
Approx. 400gm
Shipping:
Rolled in Tube via Australia Post in Australia - Handling with Cotton Gloves Only
Availability:
In Stock
Price: $1,400.00
Ex Tax: $1,400.00
My work begins with old medical journals, MRI scans and maps. Old, redundant and anatomically dubious illustrations are redrawn in pencil and combined with representations of man-made and natural systems, such as maps and diagrams. I am motivated by affinity between imaginative representations of the body and images of man-made and natural systems. This affinity leads to a single mode of representation in which the body and man-made and natural worlds can be seen as a single but multilayered system of imaginative representation. Since all representations are both the presence and the absence of what is represented, my single, multi-layered system of imaginative representation is also a single system of presence and absence.
The presence of an imaginative body is combined with the presence of a system. What is absent from the body is fulfilled by the presence of the system and likewise what is absent from the system is fulfilled by the presence of the body. The system of representation in presence and absence shows that locales, places and territories are imaginatively bound to bodies and the extension of bodies into the world is fundamental to the imaginative process of inhabitation. Bodies and territories are thereby layered in what philosophers call "becoming."
I use the images of body parts, maps and other systematic representations as formal compositional elements, actual maps of city transport systems are drawn and interwoven with the imagined and realistic images of body organs, creating an imaginary system of networks and relationships. The result is a tangle of arteries and veins that reveal hybrid systems of movement and the body in the world.
Invisible Cities Series - Saturate Series
In the past few years, laser cutting has become a key process in my work. The fine degree of cut detail only possible with the laser makes the integration of representations more intense and effective. I use the laser in a similar way to a saw, creating edges and shapes that express the cutting and disjunctions in human displacement. I will use original drawings and retraced historical drawings that are scanned and then reworked on the computer as the basis for these new multiple layered laser cut works.
In some works the drawn images are laser cut in paper where the paper stands for the body's flesh which is then surgically layered, cut and stitched and finally colour to reflect the scarring of these effects on tissue and skin. Some of the images receive scorch marks and other traumatic effects that reflect various body experiences.
The most significant impact of the use of laser cutting on my practice has been working with a computer to develop ideas beyond my previous use of more familiar sculptural media. Previous works used a similar method to my current work but each layered element was made by hand. The use of laser cutting equipment has moved me from producing single sculptural pieces to large, multi-component installations of laser cut pieces that allow the works to be "layered", enabling research around the notion of repetition and pattern making and its effect on the reading of the original drawn image. The Saturate series is created from stencils and ink through an airbrush and can include collage.
Lisa Jones 2014
Write a review
Your Name:
Your Review:
Note: HTML is not translated!
Rating:
Not for me
Love it!
Enter the code in the box below:

By sending this review, you agree to abide by Noella Lopez Gallery Privacy Policy and Terms and Conditions.