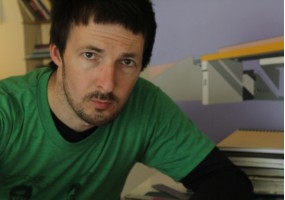 Matthew de Moiser
My family arrived in Australia as Estonian refugees after the Second World War, eventually building their first home in Geelong using discarded packing crates from the Ford factory where my grandpa worked. Like many new arrivals, they worked hard to assimilate into Australian culture and society, but my Grandma later confided feeling she belonged neither here in Australia or back in Estonia. In many ways, this family legacy still influences my practice today – informing concerns for issues of place, identity and belonging in contemporary Australia and underpinning appropriation and re-use as strategies for art-making and making sense of the world.
MINI BIO
Matthew de Moiser is a Melbourne based artist recognised for his use of everyday household objects, mediums and materials as the basis for new works that speak about the Australian urban condition.Best known for his suburban landscapes assembled from meticulously cut pieces of coloured laminex, his work demonstrates a yearning for the sublime in the ordinary, everyday here and now.
He is the recipient numerous awards and prizes including the Sunshine Coast Art Prize (acquisitive $15,000), the Flanagan Art Prize (acquisitive $5,000), the Agendo Prize (non acquisitive $10,000) the Melbourne Prize for Urban Sculpture (Civic Choice Award $3,000) and the Box Hill Biennial Art Prize (non acquisitive $3,000).
Want to Know More about Matt, CLICK HERE
Matt de Moiser in Conversation with Noella Lopez, CLICK HERE
Peter Haynes' Review in Canberra Times (April 2016): Thoroughly Modern at Contemporary Art Space Offers Six Views of Modernism, CLICK HERE
Showing 1 to 8 of 8 (1 Pages)