Melanie Beresford and Art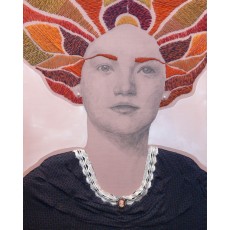 Melanie Beresford's Thoughts on Art
Art is Important Because ...
It's a platform that is accessible to all people independent of age, or background. Through it, we can tackle all sorts of issues directly, indirectly, peacefully, provocatively and using a range of different aesthetics and loaded mediums.
Three Words that Best Describe Art....
Living
Eye-catching
And raw
Practising my Art is....
A natural way for me to express myself and make sense of the world around me
It's also refreshing and rewarding as I get to try new things out and often surprise myself as I take risks. Put simply, I love it!
Discovering new art is...
A wonderful experience.
It can be incredibly enthralling when you come face to face with art that moves you or challenges you. As an artist, I'm always interested in how something is made and how that technique or medium helps the work to come to life.
Enjoying Art (being surrounded by Art) in my Home is....
Is just the way I like it. If only I had more wall space for all the works I've bought along the way let alone all my own works. I find being surrounded by art inspires me in my own practice and gives me great joy each day.
Melanie Beresford 2016
0 Comments To "Melanie Beresford and Art"
Write a comment
Your Name:
Your Comment:
Note:

HTML is not translated!
Enter the code in the box below:

By posting this comment, you agree to abide by Noella Lopez Gallery Privacy Policy and Terms and Conditions.