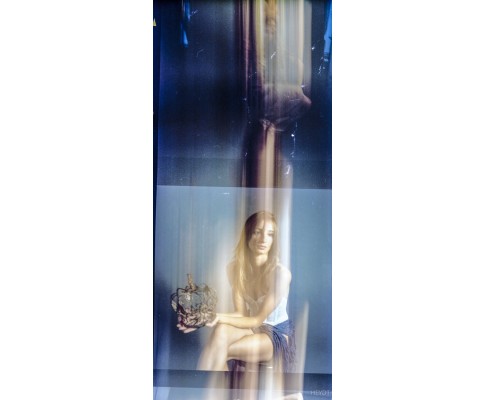 Crown
Artist:
Sam Heydt
Description:
Photograph – Skin Deep Series - Edition 2/4 + 1 Artist's Proof (Not for Sale)
Materials:
C-Print
Size:
Height 180cm x Length 80cm
Weight:
Approx. 500gm
Shipping:
Rolled via Australia Post in Australia - Handling with Cotton Gloves Only
Availability:
In Stock
Price: $4,900.00
Ex Tax: $4,454.55
Skin Deep Series
The palimpsestic female body is a site where cultural phenomenology and social perversions have historically been inscribed. America's consumer society is fuelled by a market that by nature must constantly develop new consumables and new consumers; as such, the body has increasingly become its terrain over the years, and larger and larger segments of women's and girl's bodies have become colonised, commodified, and reshaped by market forces. As capitalism bleeds the media apparatus, the social psyche has become a terrain where ideological constructs are cultivated, notions of beauty are reinforced and gender ideologies are cemented. The way in which the body produces culture at the same time as culture produces the body prefigures the way American films today exult the media's fabrication of selfhood.
The entertainment industry acts as a socializing agent manufacturing identities constructed on shifting norms. Through the internalisation of representations and archetypes reinforced by the media, the notion of self diminishes into a flickering image, rooted in the complicity of countless narratives. The sea of semiotics inundating the cinematic regime breeds certain virtues of flexible identity that manifest in corporal perfection and identity as performance. The cultural belief deeply ingrained in our society propagates beauty as the standard against which all women are measured. Stripping women of their power, the societal pressure to meet aesthetic expectations in America leads to a corrosion of the ego as it is cannibalised by low self-esteem.
Reinforcing a beauty ideology that weighs a woman's worth on her waistline and cheekbones, the state of the spectacle empties and nullifies every real identity. In its place, the media offers ideologically infused avenues for identity construction manifested in corporate branding fuelled by impossible beauty norms. From the array of media text, gender roles are realised, social norms are cemented and beauty standards are established. Subjectivity has become a shifting experience - schizophrenic and skin deep.
Sam Heydt 2014
Write a review
Your Name:
Your Review:
Note: HTML is not translated!
Rating:
Not for me
Love it!
Enter the code in the box below:

By sending this review, you agree to abide by Noella Lopez Gallery Privacy Policy and Terms and Conditions.