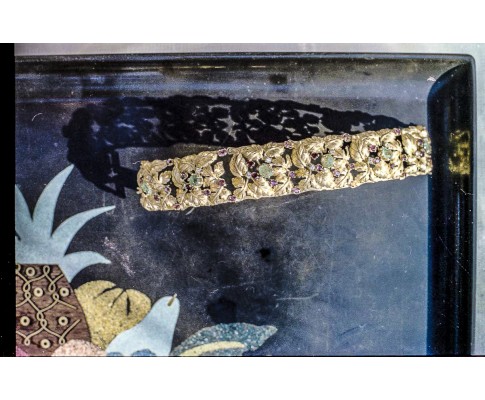 Pineapple
Artist:
Sam Heydt
Description:
Photograph – Stubborn Life of Things Series - Edition 2/4 + 1 Artist's Proof (Not for Sale)
Materials:
C-Print
Size:
Height 70cm x Length 100cm
Weight:
Approx. 300gm
Shipping:
Rolled via Australia Post in Australia - Handling with Cotton Gloves Only
Availability:
In Stock
Price: $4,050.00
Ex Tax: $3,681.82
Stubborn Life of Things Series
"What's great about this country is that America started the tradition where the richest consumers buy essentially the same things as the poorest" - Andy Warhol
Mass production, accelerated advertising and built-in obsolescence have changed the way we assign and perceive value. The principal objectives behind postmodern consumption practices lie not in the utilitarian attributes of a product, but rather in its symbolic value. In adaption to the transience of the market, the importance of a product's utility has slowly dissipated; instead it is the symbolic value of an object that determines its worth. The birth of symbolic value came in tandem to the industrial revolution, where identical objects where mass produced for mass consumption. Brand fetishism and family heirlooms came as a reaction to the crisis of over accumulation. In market inundated in excess of the same, the worth is symbolically conferred through artificial singularity.
Sam Heydt 2014
Write a review
Your Name:
Your Review:
Note: HTML is not translated!
Rating:
Not for me
Love it!
Enter the code in the box below:
By sending this review, you agree to abide by Noella Lopez Gallery Privacy Policy and Terms and Conditions.