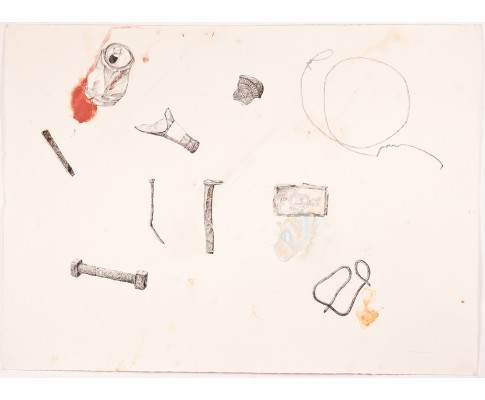 Untitled (Arrangement of Collected Human Artefacts)
Artist:
Luke Shelley
Description:
Drawing - Further West Series
Materials:
Watercolour, Charcoal, Natural Stain, Earth, 300gsm Hahnemuhle Paper
Size:
Height 79cm x Length 108cm
Weight:
Approx. 250gm
Shipping:
Rolled in Tube via Australia Post in Australia - Handling with Cotton Gloves Only
Availability:
In Stock
Price: $1,650.00
Ex Tax: $1,650.00
My drawings reflect my experiences of discovery through the studies of native flora, fauna, and human artefacts. These studies derive from actual specimens collected during extensive travel throughout coastal and central Australia. I find that travelling to various Australian landscapes and habitats, matures my artistic processes and practice. My drawings are aimed at reflecting my experiences of the varied environments through "museum-like" studies and arrangements of various specimens of flora, fauna, and discarded human artefacts.
As a pre-drawing treatment and in an attempt to introduce colour and collaboration with the environment, I selectively place the drawing paper within particular areas of the bush. The paper is left under rotting piles of leaf litter, positioned under blossoming gum trees, and/or submerged in muddied depressions of dry creek beds. Left sometimes for weeks, the paper captures the natural tannins and stains of the site. This creates the subtle, natural colour palette of the paper, which complements the drawings, and references the environment of the collected specimens.
Luke Shelley 2014
Write a review
Your Name:
Your Review:
Note: HTML is not translated!
Rating:
Not for me
Love it!
Enter the code in the box below:
By sending this review, you agree to abide by Noella Lopez Gallery Privacy Policy and Terms and Conditions.