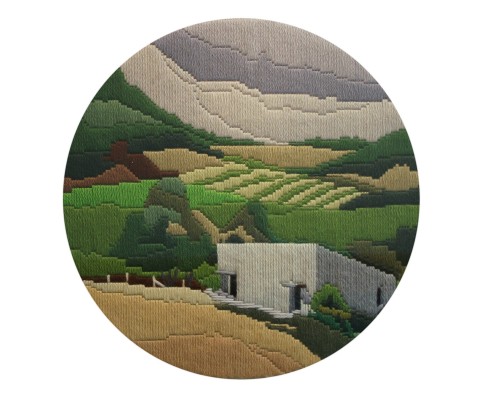 New Homestead
Artist:
Matthew de Moiser
Description:
Long Stitch Embroidery – Re-Stitched Series
Materials:
Re-Stitched Long Stitch Embroidery - Wool - Framed - Acrylic Mount Frame with Invisible Hanging System
Size:
Height 38cm x Length 38cm (Unframed) - Height 44cm x Length 44cm x Depth 5cm (Framed)
Weight:
Approx. 2kg
Shipping:
Flat Packed via Australia Post in Australia - Handle with Gloves
Availability:
In Stock
Price: $1,950.00
Ex Tax: $1,772.73
Re-Stitched Series
Long stitch embroidery was very popular in the 1980's. My Mum, Grandma and Aunty were into it in a big way and so were all my friends' mums too. You can still visit people's houses today and see long stitch embroideries hanging on the walls – almost all of them depicting quaint cottages and whimsical homesteads in lush gardens and idyllic semi-rural settings.

To me, this unique form of embroidery is a fascinating social record; an important historical document of our ideas and ideals of home (and by extension ourselves according Jungian psychology).

Using long stitch embroideries found at op-shops and donated by friends and family, I unpick the original storybook cottages and homesteads and replace them with alternative archetypes of home that challenge traditional notions of home and who we are. For example, the very popular long stitch embroidery of Cook's cottage was carefully unpicked and re-stitched with the Rose Seidler House in its place. And an old country homestead with smoke wafting from the chimney was unpicked and replaced with the Farnsworth House. In this way, the Re-Stitched embroidery series can be understood as redevelopments or renovations of our desires, aspirations and dreams.
Matt de Moiser 2015
Write a review
Your Name:
Your Review:
Note: HTML is not translated!
Rating:
Not for me
Love it!
Enter the code in the box below:
By sending this review, you agree to abide by Noella Lopez Gallery Privacy Policy and Terms and Conditions.