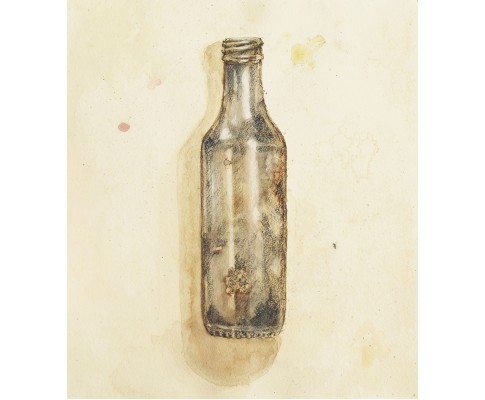 Untitled Study (Old Bottle)
Artist:
Luke Shelley
Description:
Watercolour and Mixed Media - Vessel Series
Materials:
Watercolour Pigment, Charcoal Pencil, Mixed Medium on Organic Material Stained 300gsm Watercolour Paper - Boxed Framed
Size:
Height 28.5cm x Length 25cm (Unframed) – Approx. Height 35 cm x Length 30cm x Depth 3cm (Framed)
Weight:
Approx. 250g (Unframed) – Approx. 3kgs (Framed)
Shipping:
Flat Packed via Australia Post in Australia - Handling with Cotton Gloves Only
Availability:
In Stock
Price: $750.00
Ex Tax: $750.00
Vessel Series
I chose the title 'Vessel' to represent particular objects found on the foreshore of Caroline Bay, which is part of the Brisbane waters estuary system. These selected objects have been collected from the tide mark, tussled in seaweed, or snagged in roots of the mangrove trees. Like a decommissioned international fleet left to rust in the dry dock, each object has its own individual story. Items of varied forms, creators and origin, all objects have finished their journey and have laid to rest in the same place, partly buried in the mud of Caroline Bay.
Used in a nautical context, a 'Vessel' defines a seaworthy craft capable of carrying cargo or passengers through the open ocean. As 'found objects', these objects created by either human hand or natural sources also once had a common purpose, to contain and transport their selected special cargo.
The correct purpose of these items is clear whether they are a glass jam jar, a shark egg or a seedpod. However after fulfilling their purpose and left to their own disposal, the objects take on a new meaning, a new cargo to carry our thoughts and imagination. I can't help wonder where they have come from, when did their journey begin and how long have they been at sea? Some may have navigated their way through the current and tidal movements from the open ocean into the estuary; others may have been washed through drains, creeks and tributaries after heavy rain and ended up in the estuary.
I also like to imagine that their cargo may have been significant. A simple glass jar may have become the container and protector of a precious keepsake; a shark egg may have protected its passengers from predators and treacherous storms at sea; and a seedpod may have delivered its seeds to the riverbank where now a mighty tree stands.
Descriptive of their form, their nature and their story, the physicality of some of these found objects such as a glass jar, a shark egg case, or a seedpod are 'Vessels' for my imagination. I attempt to capture the physicality and realism of these objects in watercolour and mixed media. The realism of the watercolour studies is important as I wish to engage the audience in viewing these objects like viewing a portrait or a museum illustration. I would like the audience to admire the true form of these objects, yet imagine what stories they have to tell.
Luke Shelley 2015
Write a review
Your Name:
Your Review:
Note: HTML is not translated!
Rating:
Not for me
Love it!
Enter the code in the box below:
By sending this review, you agree to abide by Noella Lopez Gallery Privacy Policy and Terms and Conditions.