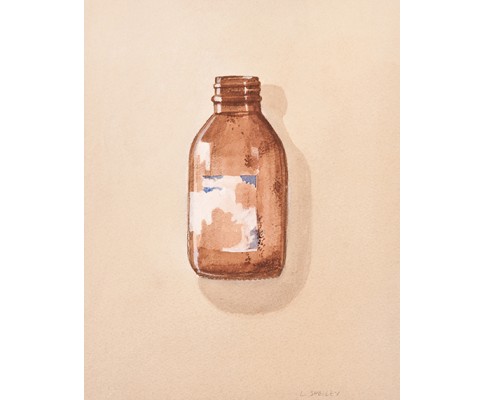 Ocean Artefact (Bottle Study 1)
Artist:
Luke Shelley
Description:
Watercolour - Artefact Series
Materials:
Watercolour, Natural Stain, Charcoal on 150gsm Arches Watercolour Paper - Pre-Mounted Artwork Framed
Size:
Height 46cm x Length 41cm
Weight:
Approx. 230g
Shipping:
Flat Packed via Australia Post in Australia - Handling with Cotton Gloves Only
Availability:
Out Of Stock
Price: $650.00
Ex Tax: $650.00
Through watercolour studies of man-made found objects retrieved from various beaches around my home, I compose the concepts of the "Artefacts of modern life" and invite the viewer to engage in thoughts of the human impact on the environment.
Frayed tousles of rope, shattered pieces of polystyrene, discoloured plastic bottles, deteriorating rubber thongs and tangles of fishing line are commonly found objects along our beaches and foreshores. Much to my regret, they exist as reminders of our modern 'throw-away' society. Like natural Flotsam, they too endure a lifetime at sea exposed to weather systems. Like a species of their own, they migrate with the ocean currents, slowly breaking down and becoming part of the ecosystem.
It is with this mindset that I choose to collect these "artefacts of modern life" and treat them as if they are natural specimen of the marine environment. They capture my imagination and conjure questions: where have they been? Where was their origin? How long have they been at sea? These intriguing objects fascinate me, yet at the same time exist as a souvenir of the devastating human impact on our planet.
Luke Shelley 2014
Write a review
Your Name:
Your Review:
Note: HTML is not translated!
Rating:
Not for me
Love it!
Enter the code in the box below:
By sending this review, you agree to abide by Noella Lopez Gallery Privacy Policy and Terms and Conditions.